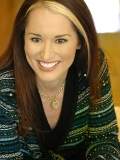 Allison DuBois was born January 24, 1972. She is an American author and self-proclaimed medium. DuBois has claimed she uses her psychic abilities to help law enforcement agencies across the United States solve crimes, which formed the basis of the TV series Medium.
Her alleged powers as a medium were tested by Gary Schwartz of The University of Arizona. While Schwartz claims that his research supports DuBois' psychic abilities, skeptics are quick to point out the flaws in both Allison's claims and Schwartz's research. Some of her claims regarding work done in high profile investigations, such as her description of the Baseline rapist, have been shown to be either incorrect or of little investigative value. Communicating with the dead and extrasensory perception are considered to be pseudoscience as there is no credible evidence to back up such claims.
Allison DuBois is the author of three books dealing with mediumship - Don't Kiss Them Goodbye, We Are Their Heaven: Why the Dead Never Leave Us, Secrets of the Monarch: How the Dead Can Teach Us About Living a Better Life.
---