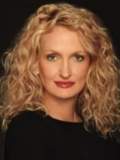 Anne Geddes is a photographer, clothing designer and businesswoman. She was born in Australia, but now resides and works in New Zealand. Anne is self-taught, mainly due to there being no photography courses offered as part of her school curriculum.
Anne is renowned for her amazing photography with babies and mothers, most notable for capturing the beauty of new born children and the wonder of motherhood. Much of her work involves babies or young children dressed in character. Her subjects are normally sleeping or staring into space.
Anne Geddes has been honoured with a life-time membership with the Professional Photographers of America, and the New Zealand Institute of Professional Photographers (NZIPP) has presented Anne with an Honorary Fellowship. In 2004 she was also inducted as a Member of the New Zealand Order of Merit.
---