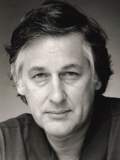 Bob Ellis divides his time between screen writing, film directing, broadcasting, song writing, acting, mob oratory, regular journalism and ceremonial speech writing, a rigorous round of dining out and theatre-going, and his family.
Ellis' screenwriting credits, 'Newsfront', 'Goodbye Paradise', 'Maybe This Time' and the Paul Cox collaborations, 'Man Of Flowers' and 'My First Wife', all won major Australian prizes, as did his children's films, 'Fatty Finn', 'Top Kid' and 'The Paper Boy'. He is also the director of 'The Nostradamus Kid' and other feature films.
His books, including 'The Things We Did Last Summer', 'Two Weeks In Another Country', 'Goodbye Jerusalem', 'The Hewson Tapes', 'The Essential Ellis', 'First Abolish The Customer', and 'So It Goes' are regarded in his native land as small classics.
---