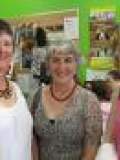 Carole Wilkinson (born 1950, Derby, England) is an award-winning Australian writer, best known for Dragon Keeper (2003).Wilkinson's family emigrated to Australia in 1963 when she was 12. Up to the age of 40 she worked as a laboratory assistant until she decided on a change of career.
To help her achieve her goal she studied at a tertiary level. During her time at University she showed some of her writing to a friend who worked in the publishing industry. This sample led to a commission to write her first novel for teenagers.
Since that time she has gone on to write numerous books for educational and trade publishers in Australia. She has also written episodes for children's television production. Carole's daughter, Lili Wilkinson, also writes for Young Adults.
---