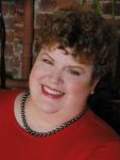 Charlaine Harris (born November 25, 1951 in Tunica, Mississippi) is a New York Times bestselling author who has been writing mysteries for over twenty years. She was born and raised in the Mississippi River Delta area of the United States. Though her early works consisted largely of poems about ghosts and, later, teenage angst, she began writing plays when she attended Rhodes College in Memphis, Tennessee. She began to write books a few years later. After publishing two stand-alone mysteries, Harris began the lighthearted Aurora Teagarden books with Real Murders, a Best Novel 1990 nomination for the Agatha Awards. Harris wrote several books in the series before the mid-1990s when she began branching out into other works. She did not resume the series until 1999, with the exception of one short story in a Murder, She Wrote anthology titled, "Murder, They Wrote."
Sookie Stackhouse has proven to be so popular that Alan Ball, creator of the HBO television series Six Feet Under, announced he would undertake the production of a new HBO series based upon The Southern Vampire Mysteries. He also wrote and directed the pilot episode for the series, True Blood, premiered September 7, 2008 on HBO .
October 2005 marked the debut of Harris's new series about a young woman named Harper Connelly, with the release of Grave Sight. Harper has the ability to determine the cause of death of any body.
---