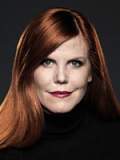 Chelsea Snow Cain was born February 5, 1972 in Iowa City, Iowa, to Mary Cain and Larry Schmidt.
After working as a Creative Director at a PR firm in Portland for several years, Chelsea began writing humor books in her spare time, including The Hippie Handbook: How to Tie-Dye a T-Shirt, Flash a Peace Sign, and Other Essential Skills for the Carefree Life (Chronicle Books, 2004), Confessions of a Teen Sleuth (Bloomsbury, 2005), and Does this Cape Make Me Look Fat? Pop-Psychology for Superheroes (Chronicle Books, 2006), which Chelsea co-wrote with her husband. Chelsea also composed a weekly column for Portland's alternative newspaper, The Portland Mercury, and started contributing to Portland's major daily, The Oregonian in 2003 when she left marketing behind to focus on writing full-time. Her last column with The Oregonian was posted on December 28, 2008.
She wrote her first thriller Heartsick in 2004, while pregnant with her daughter. It was published on September 4, 2007 and was an instant New York Times Bestseller. Its follow-up Sweetheart was published on September 2, 2008, also an immediate New York Times Bestseller. The third in the series, Evil at Heart, was released in bookstores in September, 2009.
---