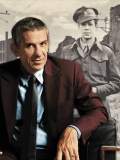 Best-selling author, Chris Nyst, has got some pretty sus mates. When prison escapee Brendan Abbott was recaptured in Darwin, Chris was the first person he called. He made national television headlines a couple of years back when he urged the Arnotts extortionists to "pull their heads in." And the high profile diet king, Peter Foster, wouldn't count a calorie without consulting Chris.
It's all because Chris also happens to be one of Queensland's highest profile lawyers, whose clients have included such diverse identities as Sydney's so called Mr Rent-a-Kill, Christopher Dale Flannery, retired heavyweight champ Joe Bugner and former Queensland Premier Sir Joh Bjelke-Petersen.
"I get around a bit," says Chris. "And I've been privileged to meet some pretty interesting characters." Certainly there are plenty of interesting characters in Chris' latest book Gone, a fast moving courtroom thriller that follows the investigation into the disappearance of two young children from a seaside town in the late 1960's. A junior police constable becomes obsessed with the case, and his hunt for the missing children eventually brings him head to head with the foul-mouthed, gum chewing Eddie Moran, an obnoxious but brilliant young defence lawyer.
---