5. The Lost Sword
---
As the dark clouds of another war loom, Jack, Scarlet and Mr Doyle travel from grimy streets of London to neon-bright metropolis of Tokyo.

They're on a mission for the British government: to locate the Kusanagi sword, an ancient relic believed to have magical powers. If they can find the sword, the Emperor of Japan promises to keep the peace between his nation and the allies.

But in Tokyo, they soon discover that the Nazis are after the sword, too. And they will stop at nothing for world domination—putting the team's lives in terrible danger.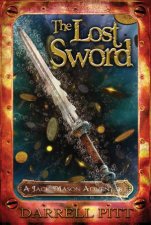 The Lost Sword: A Jack Mason Adventure