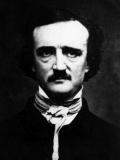 Edgar Allan Poe (born Edgar Poe; January 19, 1809 October 7, 1849) was an American author, poet, editor, and literary critic, considered part of the American Romantic Movement. Best known for his tales of mystery and the macabre,and his haunting lyric poetry, Poe was one of the earliest American practitioners of the short story and is widely acknowledged as the inventor of modern detective fiction and an innovator in the science fiction genre. This versatile writer's portfolio includes short stories, poetry, a novel, a textbook, a book of scientific theory, and hundreds of essays and book reviews.
Contrary to other novelists of this period Poe made his living solely from his writing as America's first great literary critic and theoretician.
Poe and his work appear throughout popular culture in literature, music, films, and television. A number of his homes are dedicated museums today. The Mystery Writers of America present an annual award known as the Edgar Award for distinguished work in the mystery genre.
---