Join us for a special book signing event with legendary cricketer Shane Warne!
QBD Books are delighted to be hosting Shane Warne at signing sessions for his new biography
No Spin
. Detailing everything from his childhood roots, cricketing career and controversial relationships, No Spin is a no-holds-barred look at the legendary cricketer's life.
QBD Books will be hosting book signing sessions at the below locations in October and November. We can't wait to see you there!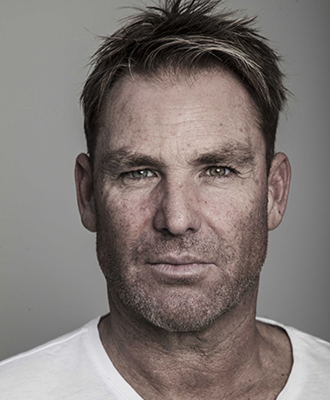 QBD Geelong
| | |
| --- | --- |
| Date | Saturday, 20th of October 2018 |
| Time | From 12pm |
QBD Innaloo
| | |
| --- | --- |
| Date | Wednesday, 24th of October 2018 |
| Time | From 10am |
QBD Chatswood
| | |
| --- | --- |
| Date | Saturday, 3rd of November 2018 |
| Time | From 11am |
QBD Bondi
| | |
| --- | --- |
| Date | Friday, 14th of December 2018 |
| Time | From 1:30pmam |
Tell your friends, tell your family...bring everyone along for a great time and meet the 'Sultan of Spin', just outside QBD Books.
About No Spin
Everyone knows the story, or thinks they do. The leg-spinner who rewrote the record books. One of Wisden's five cricketers of the twentieth century. A sporting idol across the globe. A magnet for the tabloids. But the millions of words written and spoken about Shane Warne since his explosive arrival on the Test cricket scene in 1992 have only scratched the surface. The real story has remained untold.
In No Spin, Shane sets the record straight. From his extraordinary family history to his childhood as a budding Aussie Rules footballer in suburban Melbourne. From the legendary 'Gatting ball' to his history-making 700th Test wicket. From the controversy surrounding the diuretic pill in South Africa to his high-profile relationship with Hollywood star Elizabeth Hurley. Nothing is off limits, and Shane tackles it all with his trademark directness and humour.
These days an incisive, charismatic TV commentator and analyst, the 'Sultan of Spin' also lets us in on the mysterious art of leg-spin bowling, revealing the secrets of some of his deadliest deliveries. As Shane says, 'Few batsmen, if any, truly know what I do.'
A sporting great, a celebrity, a family man and a self-confessed regular Aussie bloke from the suburbs, in No Spin Shane offers a compelling insight into how a boy from Black Rock changed the face of cricket forever.