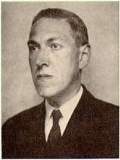 H P (Howard Phillip) Lovecraft (1890 - 1937) was an American author of horror, fantasy and science fiction, especially the subgenre known as weird fiction. Although Lovecraft's readership was limited during his life, his reputation has grown over the decades, and he is now regarded as one of the most influential horror writers of the 20th century. Stephen King credits Lovecraft for inspiring his interest of the macabre.
Several movies have been made from his writings such as From Beyond (1986) and cult classic Re-Animator (1985).
From an early age he was fascinated with poetry, and although not attending school until age 8, was well read even by adult standards. He also pursued interests in astronomy and chemistry. At the age of 9 he was writing material for The Scientific Gazette. He was prolific throughout his short and troubled life, never reaching the financial heights a successful author would today, but his legacy lives on, and his legendary status is assured in horror history.
---