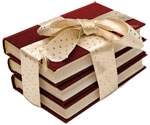 The 'My Authors' function provides our members the ability to follow authors and be advised of upcoming releases by those authors. Previously this function was known as the 'Watchlist'. This is perfect if you are waiting for the next book in a series, or if you are starting to read a new author.
In order to follow an author on our website you need to be a QBD member. 'My Authors' is not available for those customers wishing to shop as a guest. If you are not already a member, you can join
here
.
Once you have signed in, find a product by the author you are interested in and click on the eye icon next to the product image.
---
If you require further assistance, please feel free to contact us via the following methods: