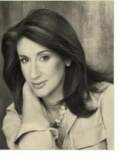 Jane Green Warburg, who writes as Jane Green, was born in London and has lived in Connecticut for seven years. One of the founding writers behind the genre known as chick lit', Green now writes novels that reflect the lives of real women today, with all the trials and tribulations that come with real life: from in-laws, motherhood, mid-life crises and loss, all of which are told with Green's trademark warmth, wit and wisdom. She began her writing career in entertainment journalism and P.R., the sort of glamorous-sounding but low-wage salt mines in which readers might expect to find a Bridget Jones, or, to take an example from Green's own fiction, a Jemima Jones. She moved up to become a feature writer at The Daily Express in London, where she became known for her wry take on dating and relationships.
Then, like all good heroines, Green decided to take a chance and follow a dream. She left the Express to freelance, and started work on a novel. In August of 1996 there was a bidding war for her first novel, Straight Talking, an overnight success. Jemima J, her second novel, was an international bestseller. Since then, Green has continued to charm and entertain readers with novels like Mr. Maybe, Bookends and To Have and To Hold. According to People magazine, Green's writing is deliciously witty and her heroines authentic. A charming book that demands Read me in one sitting!' .
The Washington Post describes her writing as smart and complex , Entertainment Weekly says unexpectedly honest , and USA Today has said: Happy, melancholic and beautifully written . The winner of a Cosmopolitan Fun Fearless Fiction Award, contributor to the most recent Chicken Soup for the Soul: Power Moms book, Jane Green Warburg lives with her husband, Ian Warburg, and their blended families of six children, in Connecticut, where her passions are food, gardening and throwing parties. When not attempting to juggle running the lives of small people, a household and a career, she can usually be found either cooking, or covered in dirt, planting vegetable seeds.
---