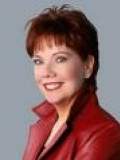 Jayne Ann Krentz, n e Jayne Castle (b. March 28, 1948 in Cobb, California, USA) is an American writer of romance novels. Krentz is the author of a string of New York Times bestsellers under seven different pseudonyms. Now, she only uses three names. As Jayne Ann Krentz (her married name) she writes contemporary romantic-suspense. She uses Amanda Quick for her novels of historical romantic-suspense. Jayne Castle (her birth name) is reserved these days for her stories of futuristic/paranormal romantic-suspense.
Over 23 million copies of Krentz's 122 novels are in print. With Sweet Starfire, Krentz created the futuristic romance subgenre, and further expanded the boundaries of the genre in 1996 with Amaryllis, the first paranormal futuristic romantic suspense novel. She is an outspoken advocate for the romance genre and has been the recipient of the Susan Koppelman Award for Feminist Studies.
Krentz resides with her husband of over 30 years, Frank Krentz, in Seattle, Washington. She is famous for her work ethic, beginning her writing by 7 am six days a week. She is fond of vegetarian cooking.
---