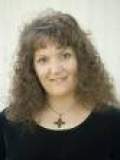 Jennifer Rardin (born April 28, 1965) is an American author. Rardin is from Indiana and has a Bachelor's degree in English.
Prior to becoming an author, she worked for a television station and as a child care provider, but always felt that writing was her calling, which led her to complete three unpublished novels. While she does not believe that they are up to a professional standard, "I do believe they needed to be written. You can't perfect this craft if you don't practice it.
During a playful conversation with her husband one day, she confided that she "really liked vampires." His suggestion was that she should write about them. Rardin had not expected a serious reply, as she felt that it had "all been written" and that there was "nothing more to say." After further encouragement from her husband, she began her fourth attempt at a serious work of fiction.
---