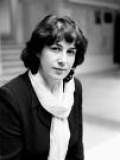 Joanne Mich le Sylvie Harris (b. 3 July 1964, Barnsley, Yorkshire) is a British author. Born to a French mother and an English father in her grandparents' sweet shop, her family life was filled with food and folklore. Her great-grandmother was a known witch and healer. All of this was an environment that would play a key role as an adult in the development of her novels.
She was educated at Wakefield Girls High School, Barnsley Sixth Form College, and St Catharine's College, Cambridge, where she read Modern and Medieval Languages.
Her first novel, The Evil Seed, was published in 1989, but it and a second novel published in 1993 met with only marginal success. In 1999, her whimsical though slightly dark and mystical story titled Chocolat, based on food and an exotic locale in the Gers area of France, reached No. 1 in the London Sunday Times newspaper's bestseller list. The book was shortlisted for the 1999 Whitbread Novel of the Year Award and the movie rights sold to Miramax Pictures. The success of the motion picture, starring Juliette Binoche, brought Harris wide recognition in North America.
---