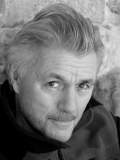 John Winslow Irving (born March 2, 1942 as John Wallace Blunt, Jr.) is an American novelist and Academy Award-winning screenwriter.
Irving achieved critical and popular acclaim after the international success of The World According to Garp in 1978. Some of Irving's novels, such as The Cider House Rules and A Prayer for Owen Meany, have been bestsellers and many have been made into movies. Several of Irving's books (Garp, Meany, Widow) and short stories have been set in and around Phillips Exeter Academy in Exeter, New Hampshire where Irving grew up as the son of an Exeter faculty member, Colin F.N. Irving (1941), and nephew of another, H. Hamilton "Hammy" Bissell (1929). (Both Irving and Bissell, and other members of the Exeter community, appear somewhat disguised in many of his novels.)
Irving was in the Exeter wrestling program under Coach Ted Seabrooke both as a wrestler and as an assistant coach, and wrestling features prominently in his books, stories and life.
---