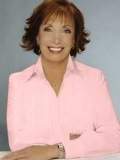 Julie Garwood (born in 1946 in Kansas City, Missouri) is an American writer of over twenty-five romance novels in both the historical and suspense subgenres. Over thirty million copies of her books are in print, and she has had at least 15 New York Times Bestsellers. She has also begun writing a novel for young adults under the pseudonym of Emily Chase.
Garwood's novel For the Roses was adapted for the television feature Rose Hill. Garwood's novels are particularly known for the quirkiness of her heroines, who tend to have an ability to get lost anywhere, clumsiness, and a "charming ability to obfuscate and change the direction of conversations to the consternation, frustration, but eventual acceptance of the other party." She is not afraid to tackle difficult issues, and one of her books deals with spousal abuse. Her novels are very historically accurate, and Garwood has been known to scour the library at the University of Kansas to find three sources confirming a fact before she includes it in one of her books.
In fifteen years of writing, by 2000 Garwood had penned 15 New York Times Bestsellers with over 30 million copies of her books in print. Despite her success in the historical romance genre, Garwood ventured into a new genre and began writing contemporary romantic suspense novels. Like her historicals, these contemporaries still focus on family relationships, whether between blood relatives or groups of friends who have styled themselves as a family. Her first contemporary offering, Heartbreaker, has been optioned for film and was serialized in Cosmopolitan magazine.
---