1. Dreamer's Pool
---
Embittered healer Blackthorn, wrongly condemned to death, is offered a lifeline by a mysterious stranger. In return, she must set aside her bid for vengeance against the man who destroyed all that she once loved. Not only that: for seven years she must agree to help anyone who asks for her aid. She and her companion Grim settle on the fringes of a mysterious forest in Dalriada, far from the place of their incarceration, and start a new life.

Oran, the crown prince of Dalriada, is waiting for his bride-to-be, Lady Flidais. Her letters and sweet portrait have convinced him that she is his destined true love.

But letters can lie.

To save Oran from disaster, Blackthorn and Grim will need courage, ingenuity, and more than a little magic.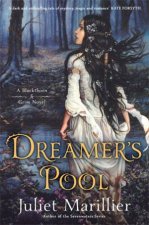 Dreamer's Pool