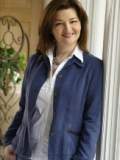 As a child, Lara Adrian used to sleep with the covers up around her neck, afraid she might become the midnight prey of deadly vampires. Later on, under the influence of Bram Stoker and Anne Rice, she had to wonder if her fear wasn't actually something else: a secret desire to walk in a darker world, to live a dangerous and sensual dream with a man of seductive, preternatural power. It is that twining of fear and desire that fuels Lara's own fantasies today, and the idea that she explores in her New York Times bestselling Midnight Breed series of vampire romance novels from Bantam Dell Books.
With an ancestry stretching back to the Mayflower and the court of King Henry VIII, Lara Adrian lives with her husband in coastal New England, surrounded by centuries-old graveyards, hip urban comforts, and the endless inspiration of the broody Atlantic Ocean.
In September 2008, Lara Adrian became an international bestseller when the German translation of Midnight Rising spent two weeks on Europe's prestigious Der Spiegel Bestseller list in the #20 and #21 spots.
---