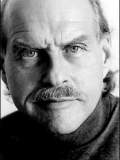 Lawrence Block (born June 24, 1938) is an acclaimed contemporary American crime writer best known for two long-running New York-set series, about the recovering alcoholic P.I. Matthew Scudder and gentleman burglar Bernie Rhodenbarr, respectively. Block was named a Grand Master by the Mystery Writers of America in 1993.
Born in Buffalo, N.Y., Lawrence Block attended Antioch College in Yellow Springs, OH, but left before graduating. His earliest work, published pseudonymously in the 1950s, was mostly in the porn paperback industry, an apprenticeship he shared with fellow mystery author Donald E. Westlake. The first of his "own" work to appear was the 1957 story "You Can't Lose." He has since published more than fifty novels and more than a hundred short stories, as well as a series of books for writers.
Block has lived in New York City for decades, setting most of his fiction there, and has come to be very closely associated with the city. He is married to Lynne Block, and has three daughters, Amy Reichel, Jill Block and Alison Pouliot, from an earlier marriage. With Lynne, he spends much of his time travelling (the two have been to nearly 100 countries), but continues to consider New York his home.
---