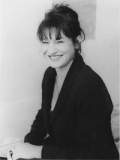 Louise Rennison is an English author and comedienne
She is the author of the Confessions of Georgia Nicolson series for teenage girls. This series records the exploits of a teenage girl, Georgia Nicolson, and her best friends, the Ace Gang. Her first and second novels, Angus, Thongs and Full-Frontal Snogging and It's OK, I'm Wearing Really Big Knickers were portrayed in a film adaptation called Angus, Thongs and Perfect Snogging.
Her one-woman live show Stevie Wonder Felt my Face won awards in the 1980s. Her other shows are Bob Marley's Gardener Sold My Friend and Never Eat Anything Bigger Than Your Head.
---