4. Graevale
---
In her third year at Akarnae Academy for the gifted, Alexandra Jennings knows now more than ever that there is danger looming over the school campus and beyond.

To save her newfound home, she must embark on a journey with her friends to unite the races of Medora against the rising threat of rebel Prince Aven Dalmarta. From the humans of Tryllin, to the Jarnocks of the treetop city Maroo and the Flips of the Undersea Islands, Alex appeals to foreign leaders for help in saving the whole of Medora. Because if the prince follows through on his promise to purge the land of mortals, everyone 's days are numbered.

Proving the most difficult to convince, however, are the Shadow Walkers, a mysterious and dark-cloaked people with grey skin who travel via shadows. They reside in Graevale, a monochromatic city that is both day and night, stormy and pleasant. In an effort to warn them of the wars to come, Alex undergoes a dangerous testing that risks not only her life, but also all of those in Medora.

In the novel 's climax, armies collide in Graevale as Aven mounts his attack on Alex and the city. Alex learns confronting truths about life, love, trust and sacrifice.
Described as a game changer to young adult fiction ', Lynette Noni 's Medoran Chronicles continue to impress new and existing fans with Book Four.

In this instalment, Lynette explores trust and fidelity within the bounds of good versus evil. As the series turns darker, Lynette tests the limits of her protagonist Alexandra Jennings, as an impending menace divides the races of Medora.

The Sydney Arts Guide describes the series as elements of the Harry Potter saga, the Narnia Chronicles and the X-Men franchise. When it comes to sheer inventiveness, the book would satisfy any fantasy devotee. '

Graevale, like its predecessors in the series, is an unforgettable read. At the heart of these books is Alexandra Jennings, a realistic and self-actualised character who inspires and resonates with fans. Alex is a twist on the traditional kick-arse heroine she trains hard to develop her skills, and while she has a natural ability to overcome adversity, she fights to be her best. Alex reminds us that we are allowed to fail, so long as we learn from our past and continue to move forward with grace and conviction.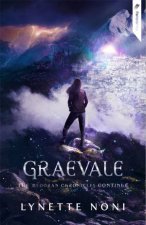 Graevale