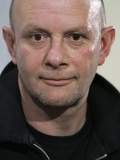 Nick Hornby (born 17 April 1957 in Redhill, Surrey, England) is an English novelist and essayist. He was brought up in Maidenhead and was educated at Maidenhead Grammar School and Jesus College, Cambridge. He is best known for the novels High Fidelity, About a Boy and for the football memoir Fever Pitch. His work frequently touches upon music, sports, and the both aimless and obsessive natures of his protagonists.
Hornby's first published book, 1992s Fever Pitch, is an autobiographical story detailing his fanatical support for the Arsenal Football Club. As a result, Hornby received the William Hill Sports Book of the Year Award. In 1997 the memoir was adapted for film in the UK and in 2005 an American remake was released, following Jimmy Fallon's obsession with the Boston Red Sox. With the book's success, Hornby began to publish articles in the Sunday Times, Time Out and the Times Literary Supplement, in addition to his music reviews for the New Yorker. High Fidelity his second book and first novel was published in 1995. The novel, about a neurotic record collector and his failed relationships, was adapted into a 2000 film starring John Cusack, and a Broadway musical in 2006.
His third novel, About a Boy, published in 1998, is about two "boys" -- Marcus, an awkward yet endearing adolescent from a single parent family, and the free floating, mid-30s Will Freeman who overcomes his own immaturity and self-centeredness through his growing relationship with Marcus. Hugh Grant and Nicholas Hoult starred in the 2002 movie version. In 1999 Hornby received the E. M. Forster Award of the American Academy of Arts and Letters.
---