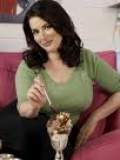 Nigella (the origins of her name are said to be 'made up by her Grandmother', but probably come from either the plant Nigella Sativa, or from Nigella seeds, used in India and the Middle East as a seasoning) Lawson was born in 1960 and one of the UK's most highly regarded food writers.
Not a trained chef, Nigella worked as a book reviewer and food critic, before releasing her first book, How To Eat, in 1998. In 2000 she began to host her own TV series, Nigella Bites. She is known for her flirtatious manner on screen and has been labelled the 'queen of food porn'. Throughout Lawson's television programmes, which are broadcast worldwide, she emphasises that she cooks for her own pleasure, for enjoyment, and that she finds cooking therapeutic. She does not like being labelled a 'Celebrity Chef'.
She has two children to her first husband who died in 2001. She married art collector Charles Saatchi in 2003 and they share a home in Belgravia, London.
---