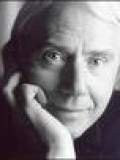 Peter McFarlane was born in Glenelg, a suburb of Adelaide, and educated in South Australian high schools and at Scotch College. He received a BA Dip Ed from Adelaide University and, apart from two and a half years in Canada, he taught in SA Education Department High Schools where he was an English Coordinator and Arts Adviser. Since receiving the Carclew Fellowship from the SA Department of the Arts in 1994 and a Category A Fellowship from the Literature Board of the Australia Council in 1995, Peter has complemented his time as a full-time writer with speaking engagements and writer-in-residencies.
In past years he has had extended periods as editor of the SA English Teachers' Association Journal, Opinion, and as Publications Officer for the Australian Association for the Teaching of English, as well as a heavy involvement with SA's Friendly Street Poets, being present at the inaugural meeting in 1975 and published in the first 17 readers. In addition to his first poetry collection, My Grandfather's Horses, (TAT 1983), he co-edited a range of poetry texts for schools: Orange Moon (Rigby 1975, with Garth Boomer), A Book to Write Poems By (AATE 1983), A Book to Perform Poems By (AATE 1985), Making the Magic (AATE 1988), and Doing Bombers Off the Jetty (Macmillan 1997, all with Rory Harris); and Blue Light Clear Atoms (Macmillan 1996) and Among Ants Between Bees (Macmillan 1998) with Lisa Temple. Books one and two on the teaching of writing, Exploring the Writer's Craft, were published by Macmillan Educational in 2000.
In 1977 he also prepared for Rigby, The Projected Muse, a book of excerpts from Australian filmscripts. Since 1988 Peter has published ten novels: the semi-autobiographical, The Tin House (Scholastic 1989), Rebecca the Wrecker, Betty the Balloon Buster, Bruce the Goose, Soula the Ruler, Max the Man Mountain, Barnaby the Barbarian and Michaela the Whaler (Harper Collins 1995, 96, 96, 97, 97, 98 and 99) and The Enemy You Killed, More Than a Game, Goat Boy and Bomber Boy (Penguin 1996, 1999, 2001, 2002), as well as two Penguin collections of short stories, The Flea and Other Stories (1992) and Lovebird (1993). The Enemy You Killed (Giochi di Guerra) and Lovebird (Controllo a Distanza) have both been translated into Italian. His short story, Wasim, is included in Personal Best, a Trans-Tasman anthology of short stories on sport that he co-edited with New Zealand author, Tessa Duder, for Reed Books in 1997. Peter lives in Adelaide with his wife and two of his five children.
---