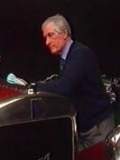 Peter Wherrett began his career as a journalist writing motor sport for the Sydney Morning Herald in 1958. During the next two years he expanded his work to include specialist articles for Wheels and Sports Car World which included road and track tests and historic pieces on the great cars of the world.
In 1960, choosing to expand his general knowledge of the motor industry, he joined The Shell Co. of Australia Ltd., but continued to write as a freelance contributor for various newspapers and magazines. He was employed as a sales representative and stationed at Young in New South Wales.
In the same year he was offered a drive in a privately owned Cooper Formula Two racing car and accepted the offer. From 1960 until 1976 he drove a wide variety of cars in races all around Australia, steadily advancing his knowledge and skills in this and other related areas.
---