Belle The Birthday Fairy
Belle The Birthday Fairy
---
These cheerful and inviting Early Readers bring the blast of colour that Rainbow Magic's youngest fans have been waiting for!
Belle the Birthday Fairy uses her magical objects to make sure that all birthdays are filled with joy and laughter!
But nasty Jack Frost has stolen these magical items... Can best friends Kirsty and Rachel help Belle find them?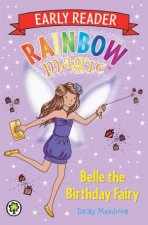 Belle The Birthday Fairy