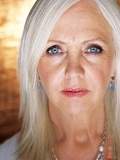 Rhonda Byrne (born March 12, 1951) is an Australian television writer and producer, best known for her work, The Secret, a New Thought book and movie which sold almost 4 million copies and more than 2 million DVDs in less than six months.
Rhonda says she stumbled on what she calls "The Secret" at the end of 2004. At the time, everything in Rhonda's life had fallen apart physically, emotionally and financially and she was in "total despair." Then her father died suddenly, and she was worried about her grief-stricken mother. "I wept and wept and wept, and I didn't want my daughter to see me sobbing," Rhonda says.
That's when Rhonda's daughter gave her a copy of The Science of Getting Rich, a book written in 1910 by Wallace D. Wattles. "Something inside of me had me turn the pages one by one, and I can still remember my tears hitting the pages as I was reading it," Rhonda says. "It gave me a glimpse of The Secret. It was like a flame inside of my heart. And with every day since, it's just become a raging fire of wanting to share all of this with the world."
---