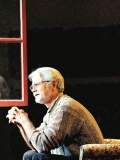 Rodney Hall was born in Warwickshire, England in 1935. He left school in Brisbane, Australia at the age of 16, before it had done him any permanent damage, and has since made his living as a writer, musician, and radio actor.
His writing has been published in Australia since 1968, the same year he was the first writer to be appointed Creative Arts Fellow at the Australian National University. His work includes many volumes of poetry, two biographies and four novels 'Just Relations' (1982) won The Miles Franklin Award.
In 1980 Rodney Hall founded the Australian Summer School of Early Music and has directed it ever since. Widely travelled, he now lives on the far south coast of New South Wales with his wife and three daughters.
---