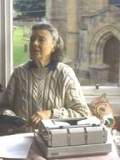 Rosamunde Pilcher has had a long and distinguished career as a novelist and short story writer, but it was her phenomenally successful novel, The Shell Seekers, that captured the hearts of all who read it, and won her international recognition as one of the best-loved storytellers of our time. Her recent bestseller, Coming Home, was also made into a television film.
In 1949, Pilcher's first book, a romance novel, was published by Mills and Boon, under the pseudonym Jane Fraser. She published an additional ten novels under that name. In 1955 she also began writing under her real name with Secret to Tell. By 1965 she had dropped the pseudonym and was signing her own name to all of her novels.
At the beginning writing was a refuge from her daily life. She claims that writing saved her marriage. The real breakthrough in Pilcher's career came in 1987, when she wrote the family saga, The Shell Seekers. Since then her books have made her one of the more successful contemporary female authors.
---