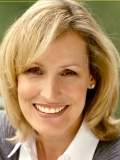 Santa Montefiore, born Santa Palmer-Tomkinson, (born 2 February 1970) is a British author.
Santa is the sister of Tara Palmer-Tomkinson. Her parents are Charles Palmer-Tomkinson and Patricia Palmer-Tomkinson, of Anglo-Argentine background. Her father represented his country in skiing at Olympic level. Her family have been close friends of The Prince of Wales for over 30 years.
Before reading Spanish and Italian at Exeter University, Montefiore worked for a year on an Argentine Estancia. She lived for much of the 1990s in Buenos Aires, Argentina, before returning to the UK. Four of her books are set in Argentina. She is married to award winning writer and historian Simon Sebag Montefiore and has two children, Lily and Sasha; she converted to Judaism before the marriage. She is a socialite often featured in the gossip columns of upmarket magazines.
---