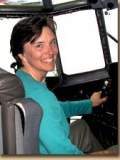 Sarah Andrews is an American author (and geologist). She writes mysteries about a geologist. She became fascinated with geology while spending summer vacations at the family farm in Maine, home to several interesting rocks and rock formations. Most people thought that Sarah would follow her father into a career in art, but as a fifth-generation female college graduate, she perceived no barriers to what she might do with her life. As her mother used to say, "You'll probably marry and have children, but you will have a career."
She began work for the U.S. Geological Survey after graduating from Colorado College. She was mentored by Edwin D. Mckee, who moulded her into a highly regarded scientist.
She became a mother at 42 (to Duncan) and soon after began writing. She currently lives in northern California and invests her free time on community pursuits and flying, skiing, and sailing with her husband and son. Both Sarah and husband, Damon, are licensed pilots, and they enjoy flying about the west in their 1965 Beechcraft Baron.
---