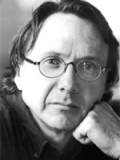 Shane Maloney is the creator of Australia's most successful crime novel series - the Murray Whelan novels: Stiff, The Brush-Off, Nice Try, The Big Ask , Something Fishy and Sucked In. The Brush-Off won the Ned Kelly Prize for Crime Fiction in 1996. It was shortlisted for the Premiers Literary Award and set as an English text for Victorian secondary students. Nice Try was a nominee for the Age Book of the Year in 2000.
In 2004, Stiff and The Brush-Off were adapted for the screen by John Clarke and made into movies with David Wenham in the role of Murray Whelan. Stiff was directed by Clarke and The Brush-Off by Sam Neill. They both rated extemely well, causing considerable confusion at the Seven Network who immediately shelved plans for further adaptions. Short samples, photos of the shoot and stills from the movies can be found on the Video and Audio page, along with links to John Clarke's daily directorial diary and where-to-buy info.
Various Murray Whelan titles are published in Germany, France, Japan, Finland, Britain and the U.S. Links to foreign edition publishers are listed under each title. Some observations about the perils and pleasures of literary translation can be found on Articles page. In addition to his novels, Maloney writes columns, travel stories, articles and book reviews for various newspapers, magazines and anthologies. His 'Encounters page appears every month in The Monthly. Maloney is also the co-author of The Happy Phrase Everyday Conversation Made Easily, a self-help book for people wanting to enhance their unintelligibility.
---