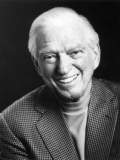 Sidney Sheldon garnered international praise and recognition in four diverse fields. The winner of an Oscar and a Tony, Sheldon had over 200 television scripts, 25 major motion pictures, 6 Broadway plays, 18 novels (which have sold over 300 million copies) and a memoir, THE OTHER SIDE OF ME, to his credit, ranking him as one of the world's most prolific writers.
Each of Sheldon's books hit #1 on the New York Times bestseller list and have been distributed in more than 180 countries in 51 languages. These include Russian, Turkish, Hungarian, Chinese, Japanese, Dutch, Portuguese, Korean, Hebrew, Greek and Indonesian. Sheldon was one of the few major authors to have most of his novels filmed as major motion pictures or blockbuster miniseries for television.
A master storyteller, Sheldon regarded his becoming a writer as something of a miracle. "I was born in Chicago during the Depression and both my parents were third grade drop-outs," he recalled. "My father never read a book in his life and I was the only one in the family to complete high school."
---