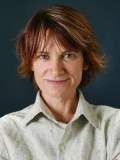 Born in Melbourne in 1968, Hartnett's career began when she was barely a teenager. She is now the author of 11 novels, having her first, 'Trouble All The Way', published at the age of 15. Her other titles first published in Viking include 'Wilful Blue' (1994), 'Sleeping Dogs' (1995), 'The Devil Latch' (1996), 'Black Foxes' (1996), 'Princes' (1997), 'All My Dangerous Friends' (1998), 'Stripes Of The Sidestep Wolf' (1999) and 'Thursday's Child' (2000).
'Wilful Blue', for which Hartnett received a writer's fellowship from the Literature Board of the Australia Council in 1992, was also produced as a play and publicly performed at the Victorian Arts Centre. Hartnett was also awarded the 1996 IBBY (International Board on Books for Young People) Ena Noel Award for this book.
'Sleeping Dogs' was published to much acclaim and was winner of both the 1996 Victorian Premier's Literary Award Sheaffer Pen Prize and the 1996 Miles Franklin Inaugural Kathleen Mitchell Award. It was also named an Honour Book in the 1996 Children's Book Council of Australia Book of the Year Awards.
---