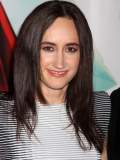 Madeleine Sophie Wickham (nee Townley), who also writes under the pseudonym Sophie Kinsella, is an English author of chick lit.
Educated at Putney High School and New College, Oxford, she worked as a financial journalist before turning to fiction. She is best known for writing the Shopaholic novels series of chick-lit novels, which focus on the misadventures of Becky Bloomwood, a financial journalist who cannot manage her own finances. The series focuses on her obsession with shopping and its resulting complications for her life.
The first two Shopaholic books were adapted into a film and released in February 2009, with Isla Fisher playing Becky and Hugh Dancy as Luke Brandon.
---