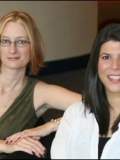 Sydney Croft is two published authors, Stephanie Tyler & Larissa Lone, who came together to blend their different writing interest into tales of erotic paranormal fiction. The books are erotic romance and do not have to be read in order as each book and romantic plot stands on its own. Each book features a different hero and heroine, but because the agency is a focal point in the series, many of the characters are seen in re-occurring roles.
Both Autors live in different states and communication is done through email. However they are often together for conferences and book signings.
The name Sydney Croft comes from - The combination of Lara Croft and Sydney Bristow.
---