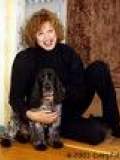 Tami Hoag (January 20, 1959) in Cresco, Iowa is a best-selling American author of romantic fiction and suspense novels. More than 22 million copies of her books are in print.
Born Tami Mikkelson in Iowa, Hoag grew up in a very small Minnesota town. Because her siblings were more than ten years older than her and there were not a lot of other children nearby, Hoag developed an active imagination, making up stories to entertain herself. In 1977 she married her high school sweetheart, Daniel Hoag, shortly before he finished college. However, she never had the opportunity to go to college herself, as they moved to a town without easy access to higher education. The couple were later divorced.
Before publishing her first novel, Hoag held varying jobs, including a stint as a photographer's assistant, training show horses, working at the circulation desk at a newspaper, and even selling designer bathroom accessories. She began her career as an author in 1988, writing category romances for the Bantam Books Loveswept Line. After several years of success in that field, Hoag switched her focus to single-title suspense novels. She has had thirteen consecutive New York Times bestsellers, including five in a 20-month span. Her novel Night Sins became a TV miniseries starring Valerie Bertinelli and Harry Hamlin. Hoag has been invited to do a reading at one of Barbara Bush's literacy functions, and then had lunch with former President George H.W. Bush and Mrs. Bush at their home. Ironic that a lady such as Mrs Bush can run a literacy program when her own son, George W. Bush is functionally illiterate!
---