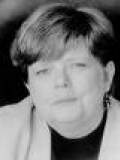 Tamora Pierce (December 13, 1954) is an author of fantasy literature for young adults. She is an alumna of the University of Pennsylvania. Best known for writing stories involving young heroines, she made a name for herself with her first quartet The Song of the Lioness, which followed the main character Alanna through the trials and triumphs of training as a knight. Pierce is also the co-founder of the forum Sheroes Central.
Pierce was born in South Connellsville, Pennsylvania in Fayette County, on December 13, 1954. Her mother wanted to name her "Tamara" but the nurse who filled out her birth certificate misspelled it as "Tamora". When she was five her sister Kimberly (who she based Alanna on) was born and a year later her second sister, Melanie, was born. From the time she was five until she was eight, she lived in Dunbar. In June of 1963 she and her family moved to California. They first lived in San Mateo on El Camino Real and then moved to the other side of the San Francisco Peninsula, in Miramar. They lived there for half a year, in El Granada a full year, and then three years in Burlingame.
She began reading when she was very young and started writing at about 6 years old. Her interest in fantasy and science fiction began when she was introduced to J. R. R. Tolkien's The Lord of the Rings, and so she started to write the kind of books that she was reading. After her parents divorced, her mother moved her and her sisters back to Fayette County in 1969, where she spent two years at Albert Gallatin Senior High. When her family moved again, she spent her senior year at Uniontown Area Senior High School, acting, singing, and writing for the school paper.
---