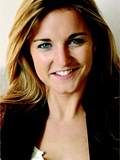 Tilly Bagshawe is a British freelance journalist and author.
Her first novel Adored was published in July 2005 and centres around the beautiful and privileged Siena McMahon, who is packed off to boarding school in England but is determined to become a star.
Tilly Bagshawe was educated at Woldingham School, Surrey and went up to Cambridge University at the age of eighteen with her ten-month-old daughter in tow. Now a freelance journalist, she is a regular contributor to The Sunday Times, Daily Mail, and other major British publications. Tilly lives in Los Angeles and London with her husband (Robin), daughter (Sefi), and two sons (Zac and Theo). She is a sister to another author, Louise Bagshawe.
---