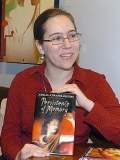 Ameila Atwater-Rhodes was born in 1984. Her parents encouraged her to read early on. She grew up in Concord, Massachusetts. Amongst her influences are Christopher Pike's The Last Vampire, Anne Rice, and other vampire books and movies. In her early years and as the "teen successor to Anne Rice", Atwater-Rhodes wrote her first novel at the age of thirteen. At the time, she said she had over a dozen stories in various stages sitting on her shelves.
In middle school, Atwater-Rhodes was being questioned by an English teacher who remembered her older sister when a girl she knew proceeded to brag that Atwater-Rhodes was trying to get a book published. As it turns out the English teacher was also a literary agent and asked to read some of her work and later to represent her. Two months later, on her fourteenth birthday, Amelia received a phone call telling her that Bantam Doubleday Dell had accepted her manuscript, White Wine, for publication. Her agent, Tom Hart, said it was "the fastest sale he ever had." White Wine would later be published when Amelia was fifteen as In the Forests of the Night.
Amelia graduated Concord-Carlisle High in 2001, a year early. She completed her junior and senior years in one year. Amelia graduated from the University of Massachusetts with a double-major in English and psychology. She has been featured in Seventeen, JUMP* Magazine, Entertainment Weekly, USA Today, The New Yorker, The Rosie O'Donnell Show and CBS This Morning. Several of her novels have been ALA Quick Picks for Young Adults; Hawksong was The School Library Journal Best Book of the Year, and Voice of Youth Advocates Best Science Fiction, Fantasy, and Horror Selection.
---