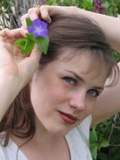 Born in Salt Lake City, Utah, Writing faerie stories is what Aprilynne Pike has always had a passion for. She received her BA in Creative Writing at that age of twenty.
After years of work, she had yet to achieve publication and her dreams of becoming an author were becoming smaller and smaller. With motivation and beliving in herself she never lost hope that her books will one day be published for the world to read. Several months of revisions went by and her debut novel "Wings" was released and debuted as a New York Times best-seller and proceeded to take the #1 spot on that list.
Aprilynne recently returned to Arizona with her husband and three kids; she is enjoying the sunshine.
---