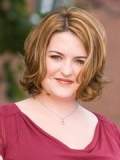 Carrie Ryan was born and raised in Greenville, South Carolina and graduated from Williams College and Duke University School of Law. A former litigator, she now writes full time. She now currently lives with her writer/lawyer husband, two cats and one large puppy in Charlotte, North Carolina.
Carrie originally tried to write 'chick lit' but that market didn't work for her and she liked young adult books so much better. After a few false starts, her husband convinced her to write what she loved and so she started writing about zombies.
There are so many movies about the days and weeks after a zombie apocalypse, but Carrie wanted to know what happened much later - generations later. The Forest of Hands and Teeth is her first published novel and she's excited to be writing even more novels set in the same world.
---