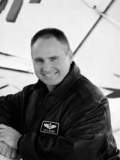 Dale Brown (born November 2, 1956) is an American author most famous for his military-action-aviation techno-thrillers, with thirteen New York Times best sellers to his credit.
Brown was born in Buffalo, New York. He graduated from Penn State University with a degree in Western European History, and received a commission in the United States Air Force in 1978.
A navigator-bombardier in the G-model B-52 Stratofortress heavy bomber and the FB-111A supersonic medium bomber, he rose to the rank of captain via automatic promotion. He is the recipient of several military decorations and awards, including the Air Force Commendation Medal, the Combat Crew Award, and the Marksmanship ribbon. He is also a Life Member of the Air Force Association and the U.S. Naval Institute. After leaving the Air Force in 1986 he wrote his first book, Flight of the Old Dog. His novels are published in eleven languages and distributed to over seventy countries. Many of his novels fall into the airport novel genre.
---