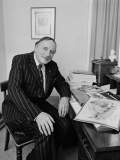 Sir Edward "Weary" Dunlop, AC, CMG, OBE, KCSJ, MS, FRCS, FRACS, FACS, LL D Melb. (Hons) D.Sc. Punjabi (Hons) was born at Stewarton, Victoria in 1907. After a brilliant academic career, he qualified as a pharmacist in 1928 and as a doctor in 1934.
In 1938 he went to England for post-graduate studies at St Bartholomew's Hospital and at the outbreak of World War II he became a specialist surgeon to the Emergency Medical Services at St Mary's Hospital, Paddington.
In 1940 he was posted to Jerusalem and after service in Greece, Crete and at Tobruk with 2/2 Aus. CCS, landed in Java in February 1942 and was promoted to command No. 1 Allied General Hospital. At capitulation, he elected to stay with his hospital and patients and became a prisoner-of-war.
---