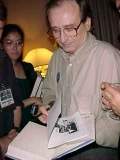 Eric was born in southern California in 1947. He lived for five years in France (ages 5-10) and spent his teenage years near Fresno, Arizona. He graduated from UCLA in 1968 and spent three years working on his Ph.D. in history. He was first published in the Journal of African History in 1970.
Becoming disillusioned with academia, he admits his socialist leanings made him leave. He was politically active for years, protesting, mainly, in the civil rights movement and against the Vietnam War. For the next quarter of a century he worked various blue collar jobs, mostly as a machinist.
In 1992 he decided to try to fulfill his childhood dream of being a science fiction/fantasy author. He has been a full time writer since 1999, when he quit his factory job.
---