Join us for a special signing event with sporting legend Sonny Bill Williams!

QBD Books are delighted to be hosting Sonny Bill Williams at signings sessions for his new autobiography

'You Can't Stop The Sun From Shining'

. Sonny Bill has built an incredible career across Rugby League, Rugby Union and Boxing. and gained a glowing sporting reputation across the globe. Find out more about the man behind the elite sportsman in this must-read biography.

QBD Books will be hosting book signing sessions at the below locations in November 2021. We can't wait to see you there!


Tell your friends, tell your family...bring everyone along for a great time and meet one of Australia's most beloved sporting heroes, just outside QBD Books.



Please note the following special conditions apply to all signing events during the COVID period:


* Social distancing applies to all queues and will be policed accordingly. Anyone not adhering to social distancing may be asked to leave.
* Anyone approaching the author must be wearing a mask and sanitise their hands.
* Anyone attending events in NSW must be double vaccinated (if eligible) and be able to provide proof of vaccination upon request.
* Any photos must be taken by the owner of the phone and be socially distanced.
* Due to limited time, and to avoid disappointment, the queue may be capped, depending on length. The end time for each event is firm and cannot be extended.
* Sonny Bill Williams will only be signing copies of his new book. Any other merchandise will be confiscated by a team member and returned after your book/s have been signed.


About You Can't Stop The Sun From Shining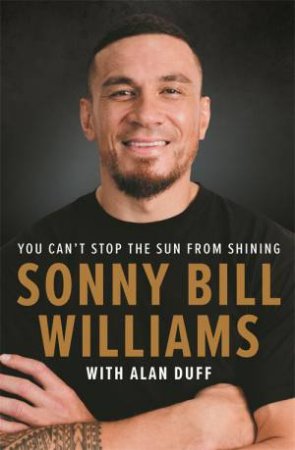 Sonny Bill Williams (SBW) is a once in a hundred-year athlete with immense sporting talent in Rugby League, Rugby Union and Boxing. Sonny Bill has built an incredible career and sporting reputation across the globe. His athleticism has taken him from inner-city Auckland, where he grew up, to the highest sporting moments in Twickenham, Eden Park and Sydney's Olympic Stadium. But there is so much more to Sonny Bill Williams' life and journey than his on-field and in-the-ring triumphs. Sonny Bill's love of family, his faith, his skill and performance throughout his unparalleled sporting career, his ability to unite a team under pressure, his grace in owning his mistakes, the challenges of leaving home as a young man and dealing with a negative culture and the temptations that followed, and his courage in speaking out for the vulnerable and calling out injustice are all aspects of an inspiring life story. Sonny Bill Williams was the first Muslim to play for the All Blacks. Driven by a fierce moral compass, Sonny Bill Williams thoughtfully and authentically uses his standing and platform as both a UNICEF Ambassador and an elite sportsperson to speak out on political issues that confront the world today and to benefit those struggling in life. He is a dedicated family man, devoted to his faith, committed to his teammates, respectful of his fans and aware that the path he has taken can inspire and empower others. Working with Alan Duff, award-winning author of Once Were Warriors, this will be the must-read autobiography of the year.