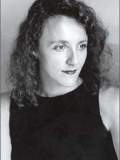 Born in 1967 into a family of Swiss hoteliers, Gaby Naher's father was the proprietor of The Belvedere Hotel in Kings Cross. Her childhood was spent in Sydney. When she left school, Gaby studied in Zurich for a few months before moving to Paris to complete one year of an arts degree at the Sorbonne while working as a jeune fille au pair. On returning to Sydney, she gained a Bachelor of Arts in Communications at the University of Technology, Sydney, where she majored in creative writing.
While she was studying, Gaby worked as a disc jockey, camera operator on a round Australia rock tour, and as the manager of a boutique in Sydney's Strand Arcade. In 1989 she moved to London where she worked as a book publicist for Chatto & Windus (under the notorious Carmen Callil), Hodder & Stoughton and Serpent's Tail. During this period she felt privileged to be part of the beginning of Walter Mosley's career and to act As His Holiness, The Dalai Lama's publicist for the launch of his autobiography, Freedom in Exile. During a brief sojourn back in Sydney, Gaby worked at Hickson Associates Literary Agency and as a bookseller at Pentimento in Balmain. In 1993, Gaby spent six months in New York working on the US launch of Serpent's Tail. Somewhere, between cities, she wrote her first novel, The Underwharf, which was published by Penguin Australia in 1995, by Hamish Hamilton in the UK in 1996 and by Econ Verlag in a German language edition in 1997.
After her return to Sydney, Gaby worked as literary agent at Hickson Associates where her clients included Jessica Adams, Luke Davies, Fotini Epanomitis, Margo Kingston, Catharine Lumby, Mandy Sayer and McKenzie Wark.
---