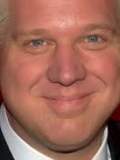 Glenn Beck is an American radio and television personality. As a writer, he has achieved the rare feat of having New York Times #1 bestsellers in both fiction and non-fiction.
Glenn started as a DJ at age 13. In 2002 the Glenn Beck program was launched, which is now heard on over 400 radio stations across the US. He also has a TV show on the Fox News Channel which bears his name.
He has courted a fair amount of controversy, but although he has his critics, he has a loyal following from his fans. An unashamed neocon, he often portrays inflammatory views. By the age of 30 he was a drug addict and alcoholic. He managed to get clean, re-marry and rediscover his Mormon faith. He lives in Connecticut with second wife Tania, and four children.
---